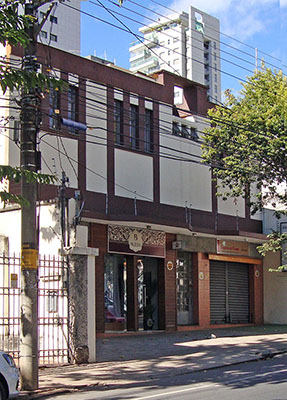 Contact Information
All repairs and instrument trials are by appointment only.
Appointments are available Monday thru Friday, between the hours of 10am and 12pm, and 1pm and 5pm. Payment methods accepted include cash, personal checks, and bank deposit.
Shipping and Street Address:
Alberto Grossi Woodwinds
Rua Montes Claros, 671, Loja 10 (2° Andar)
Bairro: Anchieta
CEP: 30310-370 Belo Horizonte, MG
Directions:
By car
From Av. do Contorno, take Rua Grão Mogol to the right. Follow to Rua Passa Tempo and turn left. Cross Av. Francisco Deslandes and turn left at Rua Montes Claros. The building is on the second block on the right. You can park in front of the building or on the left side of the street.
By bus
Take bus number 2103 or 4111 toward Anchieta. Using the 2103 bus, get off at the corner of Av. Francisco Deslandes and Rua Passa Tempo. Using the 4111 bus, get off at the corner of Rua Passa Tempo and Rua Montes Claros.