About AG Woodwinds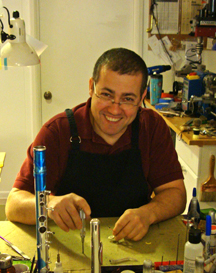 Alberto Grossi
Established in 2003, Alberto Grossi Woodwinds offers high quality repair services for flutists, oboists, and clarinetists in Belo Horizonte, Brazil. Our goal is to provide individual attention to each client, assuring that every instrument is returned to its owner meeting his or her exact specifications. All instruments are serviced and tested to play at the highest level possible. We provide accurate estimates and timely instrument returns. Emergency repair service is available on a limited basis.
Alberto Grossi Woodwinds has had the privilege to service the instruments of many professional players, including musicians in the National Symphony Orchestra, Baltimore Symphony Orchestra, Washington National Opera, Chicago Symphony Orchestra, Detroit Symphony Orchestra, Utah Symphony Orchestra, Alabama Symphony Orchestra, Asheville Symphony, Charleston Symphony Orchestra, and the National Philharmonic, as well as musicians from the Army, Air Force, Navy and Marine Bands.
Alberto Grossi is a certified Muramatsu technician, having trained at the Muramatsu factory in Japan. He is also a certified Straubinger technician. Mr. Grossi is a professional oboist with a Masters degree in oboe performance from the University of Iowa. He began learning repair in his native country of Brazil and has been repairing instruments professionally since 1990. Mr. Grossi is assisted by his wife, flutist Lauren Panfili. A freelance musician and teacher, Ms. Panfili is also the sales manager for Alberto Grossi Woodwinds.
We welcome your business and look forward to serving your musical needs.